Sandstone Volunteers Group – High Rocks Restoration Project.
22nd April 2005

 – We've done it! 

Twenty volunteers came out last Saturday to finish the work at High Rocks. The crag and surrounding area look fantastic and the work carried out appears to have had the desired effect. There were quite a few out on Sunday, climbing and enjoying not only the fantastic weather but also climbs that have not been popular for a long while.

Over the past five months, volunteers have spent 149 man-days working on the project. Of the 84 climbers who replied to my initial e-mailing expressing an interest in the project, 64 came out and helped over the course of the project.

There were also, of course, many meetings between the organisers and the owner, contractors and agencies such as the Forestry Commission and English Nature to keep the project on track – and also a website to keep you up to date and disseminate information.

The project would not have been possible without financial support from the British Mountaineering Council and the Climbers' Club.

May I say thank you to all who have taken part and so enthusiastically and who have willingly given your support to this project which has undoubtedly put High Rocks back where it belongs at the pinnacle of Southern Sandstone climbing.

If you've any comments – good or bad, please let me have them along with suggestions as to how we might have done better. They will all be analysed.

The website will continue to be updated and will most likely metamorphose into a 'Sandstone Volunteers Group' site at some point.

I think we can be justifiably pleased with and proud of this achievement; the project stands out as an example to others of what can be done.
Thanks, Graham.
High Rocks update – 11th April 2005.
After some trying administrational difficulties that have delayed the final stage of the project, we now have agreement between the interested parties and can carry out the final stage. In order to make use of time that the arborists are on site to our advantage, we plan to carry out this work next weekend – on Saturday 16th April 2005 – at High Rocks from 09:00. This is both short notice and much later than we had planned but does allow us to finish the project with all parties on site.
The plan is to finish the work and the tasks will be mainly transporting and stacking the remaining timber to form habitat piles in specified locations. Remaining brash needs to be transported to designated burning areas and burnt. Please do not cut any more Rhododendron or scrub unless directed to. This can be done later if required but is not part of the task. Also, please do not disturb trunks that are laying at the top of the banks unless directed to do so.
A good turnout would ensure the job was completed so if you can come along, please do. Some hand tools, as before, may be useful.
Following this day's work, the administration of season tickets for those who have worked on the project for at least two days will be completed. I have listings of previous attendance – please ensure you sign in for the day.
If you've already bought a season ticket for this year, it will either be endorsed for a further year after expiry or you will receive a voucher for a renewal when the existing ticket expires. (I've not received notification of exactly how this will work!).
The crag is in much better condition due to the work already carried out – please come and help us in this final push.
If you can let me know if you're able to attend, it will be very helpful. If not, please come anyway! If you know of others who might like to help, they will be made very welcome!
Any queries, please e-mail me or phone me – 01273 463447.
Thanks for your continued support…
Graham.
High Rocks update – 16th March 2005.

Hi Everyone. Firstly, please accept my apologies for not having posted out earlier. It seems that every time we tried to arrange a date for further work, a problem arose that prevented it happening.

It seems to be ages since we last worked on High Rocks. It was, in fact 23rd January, almost two months ago. Since that time, there have been a number of problems that have prevented up from finishing the job with a final clearance and formation of habitat piles.

Initially, wet weather slowed down the process of cutting the final few trees. The start of work on the owner's trees was delayed and more recently there have been other administrative problems that it has taken time to resolve. We are not yet out of the woods (so to speak).

However, the crag has benefited enormously from the hard work that the sandstone volunteers have put in and it would have been ideal if the work had been finished before Easter and the start of the better weather.

I'm hopeful that the project is getting back on track now and that I shall shortly be able to arrange a final day to finish the project both physically and administrationally. As soon as this happens, I will mail out again.

Thanks for your help and patience!

Graham.
10th FEBRUARY 2005.

Our initial estimates of the time taken to do various parts of the work were good and the work went well according to plan. However, the arborists have taken longer to get the work completed than was envisaged. I postponed the 'final clear up' as the volunteer work had caught up with the arborists and I didn't want to waste the goodwill we've had on days that achieved little.

Most of the felling and larger trunk clearance has been done. We are presently waiting for the last of the trees to be felled and the crown lifting to be completed on the three beeches near 'The Prang'. There is also some trunks near Advertisement Wall to be removed.

Consequently, the clearance work remains on hold at present. There will be some work to be done at the end of the project but the management team feel it would be better to wait a little longer so that we can finish the job in one go.

There are some areas that would benefit from some further Rhododendron work but this could be done at the same time.

Thank you all for the help you've given so far. I will let you know as soon as I can about the next (and hopefully last) session.

High Rocks looks fantastic now – if you've not seen it for a while, go and have a look! – maybe even climb there!

Thanks,
Graham.
SUNDAY 22nd & 23rd JAN 2005.
A good weekend's work over the 22nd and 23rd January has brought us up to date with the brash clearance and habitat pile building. In order to use the goodwill of volunteers effectively, we've decided it would be better now to hold off whilst the arborists complete their work, including removal of the larger trunks and repair of the damage to the paths. This will allow us to assess what further needs to be done to finish the project.

Therefore, the work scheduled for next weekend – Saturday 29th and Sunday 30th January has been postponed until further notice.

In reality, we hope to be in a position to complete the work over the weekend of 5th and 6th Feb or 12th and 13th Feb. We are keeping an eye on progress almost daily but at present are unable to plan the next phase. We will advise as soon as possible.

The majority of the tree felling has now been completed. There remain about four trees to be felled and others to be crown lifted or have branches removed. The arborists have also to reduce and remove many of the remaining trunks, leaving the way clear for us to finish the habitat piles and clear the remaining brash.

I will mail out again shortly. Please pass this info on to others who may be interested – I don't want anyone to have a wasted journey next weekend.

We will keep the website up to date with plans as they emerge. There are recent pictures on the site now.

Thank you all for the help you've given so far – the project is nearing completion. High Rocks, for those who have not seen the results of the work, is a very different place!

If you've replaced your bowsaw blade to help on the project, please let me have claims for that and any other project expenses as soon as possible so that we can settle accounts etc. promptly. Please e-mail or telephone me with details.
Graham.
Sandstone Volunteers Group.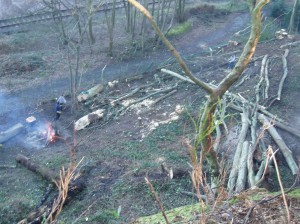 SUNDAY 16th JAN 2005.

Sunday 16th Jan saw another well attended and successful day's clearance
work carried out and the project is going well. Tree felling continues
Monday to Friday this week and there are clearance days on Saturday and
Sunday (22nd and 23rd Jan) for those who wish to help out clearing,
stacking and burning. Tool-wise, a billhook, bowsaw or loppers seem to be
favourite.

At present no work is envisaged for the weekend of 29th and 30thJan.

The crag is now very open and can be seen from Tea Garden Lane.

More Rhodies were cut on Sunday 16th revealing even more of the cracks and
passages that give High Rocks its SSSI status.

Thanks to everyone who is supporting this project.
Graham.
4th January 2005
The Forestry Commission have granted us a felling licence and the tree felling phase of the project starts at High Rocks on 10th January. It's envisaged that the work will take at least two weeks. A local firm of professional arborists who require no volunteer labour whilst they are on site is carrying out work. In order to meet the financial constraints of the project, the arborists will fell and cut the arisings into manageable lengths ready for trimming and stacking as habitat piles in designated areas and we need volunteer help to carry out this task and to burn the trimmings.

If you have suitable hand tools such as bowsaws, billhooks, hand-axes or similar, suitable for trimming the felled and cut lengths, please bring them along. If your bowsaw's blade is blunt, we will reimburse reasonable costs for a replacement (retain the receipt please). If you have a chainsaw for which you have a user's certificate and insurance and would be prepared to use it for expenses, please call me first.

We need help on the following dates -

Saturday 22nd January 09:30 to dusk

Sunday 23rd January 09:30 to dusk

Saturday 29th January 09:30 to dusk

Sunday 30th January 09:30 to dusk

The work involved is envisaged to be mainly trimming the felled lengths, moving to designated areas for either stacking as habitat or removal from site, burning the trimmings and, depending on numbers on a given day and needs, trimming trees and bushes. Please bring a packed lunch and drinks etc. (although the hotel will be open), and wear suitable warm old clothing and a waterproof if it's wet. Suitably heavy footwear should also be worn.

If you can help out on only one day, it would be most effective if it were one of days on the later weekends rather than the 16th January.

Details of the work and updates or changes to schedules will be made as appropriate to keep project helpers informed. There have also been various threads on both the Southern Sandstone and Rocktalk (BMC) message boards.

If you can help out, please contact Graham Adcock on 01273 463447 or e-mail adcock@clara.net with the date(s) you can help This will help the organisers utilise the volunteer help on a particular day most effectively. Please do not be put off by this – if you can't be sure, we will not turn away those who just 'turn up on the day'. Do, however, report to the day's organiser on arrival and departure so that we know who's on site at a given time for health and safety reasons.

We've had an enthusiastic and much appreciated response from the climbing community so far and much has been achieved. We need to complete this important part of the project and can't do it without your help. Please pass this on to anyone you feel may be interested in helping out – we need to reach as wide an audience as possible!

Thank you for your continued support,

Graham Adcock.

Sandstone Volunteers Group.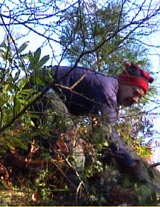 DECEMBER 28th 2004 – more Scrub-bashing
Another highly successful day of scrub clearance. 21 of us spent the Christmas excesses clearing the Rhodies from above Shattered, Seaman's Wall, Bell Rock Traverse Passage and the area around the Isolated Boulder. Needless to say the outcrop looks significantly better for it. Many thanks to all who turned out to support the project.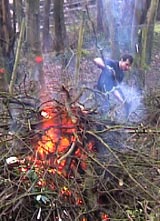 NOVEMBER 2004 – 1st Scrub-bashing Weekend
What a fantastic turnout over the weekend. Thank you all for your time and considerable efforts. We had 34 on Saturday and 27 on Sunday and worked 09:30 to beyond dusk both days. Consequently, High Rocks is a different place with a significantly reduced Rhododendron and scrub covering.
Work began on the ground and areas either side of Advertisement wall were tackled along with the area from Rag Trade down to Steps Crack. This large area had been reduced to ground level by 2pm and work then began on top of the crag. The Grand Canyon and areas above Advertisement Wall, Marquita and First Crack were tackled and completed.
Sunday' work concentrated on the crag top and vast quantities of Rhodie rained down from Conchita to Pure Arete. The Grand Canyon was also finished off. Work was also carried out in the area of the slab boulder and above Odin's Wall to Dagger Crack.
As a result, the crag is now ready for tree work to begin and it is hoped this will be started in January.
There remain specific areas where further scrub clearance is needed – above Shattered, above Seamans Wall and beyond Slab and Isolated Boulders. Various helpers have suggested that a day over the Christmas break might be appropriate – maybe 28th December…..watch this space!
Sincere thanks to all who contributed their time, effort, expertise and tools!
Graham.
Sandstone Volunteers Group.